A Pan-European Network to Counter Hybrid Threats
The EU-HYBNET is a Pan-European network of security practitioners, stakeholders, academics, industry players, and SME actors across EU collaborating with each other in ever increasing numbers to counter hybrid threats.
Today's world is experiencing many changes relating to renegotiation of the world order, technological revolution, the media landscape, the nature of war, conflict and peace, as well as generational changes that result in reinterpretations of history, and even challenges to democratic state systems. Hybrid threats are a product of this time and age.
In order to enhance EU's resilience to hybrid threats, a state-of-the-art network (EUHYBNET/ Pan-European Network to Counter Hybrid Threats) is established. The project will ensure synergies with other European, subnational and national networks, and especially with security practitioners, academia, and industry, allowing existing resources to connect gaps and dots coherently in the innovation solutions and research landscape and increasing EU awareness and capabilities established to detect hybrid threats.
 EU-HYBNET is a five year project funded by the European Commission (No. 883054).
EU-HYBNET aims...
To empower its network to fight against hybrid threats by proliferating knowledge and facilitating cooperation between industry, practitioners and academia, and by providing advanced solutions for network collaboration and delivering recommendations for training, standardization and industrialization of cutting-edge innovations.
THE PROJECT
WILL ADDRESS
4 CORE
THEMES
To ensure coherence in the project's results: The four core themes will afford an opportunity to focus on all hybrid threat domains, especially interfaces between the domains, ensuring that the project delivers coherent results in relation to the conceptual framework model countering hybrid threats.
Concept and Approach
A coherent approach focusing on the domains of hybrid threats
The four core themes of the project will create an opportunity to link and interface with other threat domains as identified by the European Commission, JRC and Hybrid CoE; and provide a sound window into supporting research and innovation activities in any of the hybrid threat domains considered by the project to be important and capable of delivering solutions.
EU-HYBNET Vision
Extended Network
The project administration board will eventually select new members on a yearly basis which will allow for cooperation and information sharing with other network members in forthcoming years.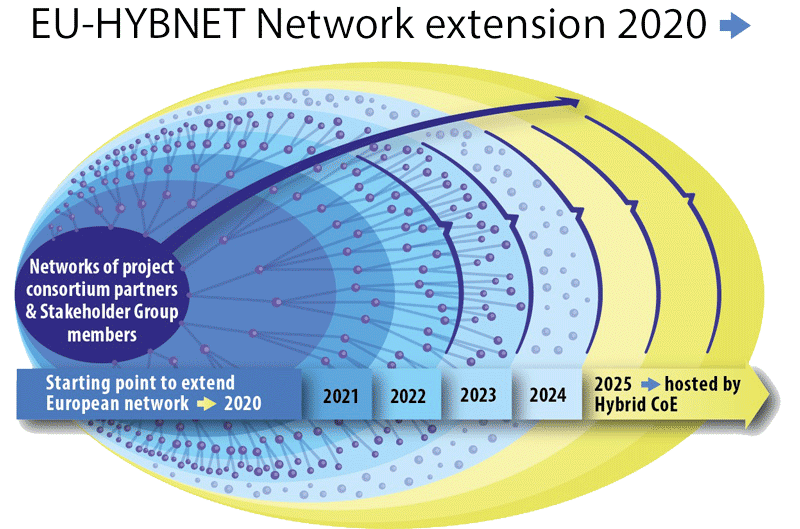 News
Latest news from the project