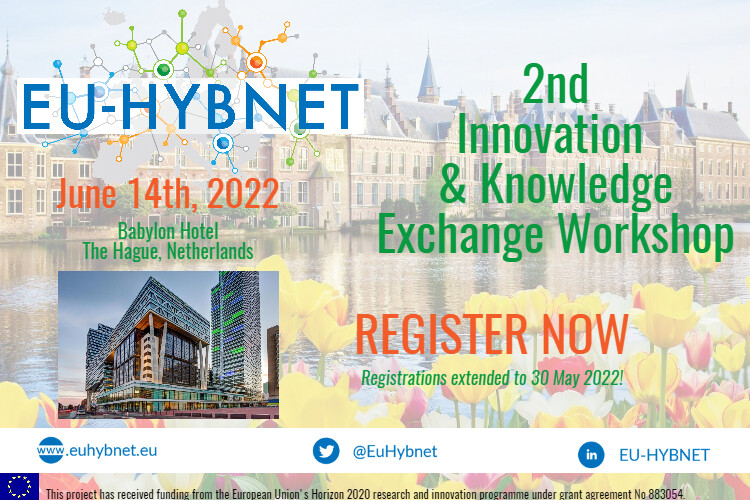 EU-HYBNET 2nd Innovation and Knowledge Exchange Workshop #IKEW
We are pleased to invite you to the EU-HYBNET consortium's second hybrid Innovation Knowledge Exchange Workshop (#IKEW), which will take place on 14 June 2022 in the Hague and online!
Registrations are now closed.
The objective of this second workshop is to provide security practitioners, industry, SMEs, and academia with an opportunity to exchange information on challenges in countering hybrid threats and possible innovations to answer them.
IKEW 2022 will start with a plenary session with a keynote speech by Gwenda Nielen (TILT) on 'Disinformation; The BadNews and resilience'. Presentations from EU-HYBNET on its latest results and future views and from the Dutch Ministry of Defence on hybrid threats in the Netherlands will follow. The plenary will be live-streamed to participants attending digitally.
Two tracks of break-out sessions will be organised in two rounds: live in the Hague or online for participants attending remotely. In each round, participants can express their preference between two live or online sessions.
In the four live break-out sessions, SMEs and innovation solution providers are encouraged to participate and discuss how several innovations to counter hybrid threats could be further improved and what new innovations may be needed. The sessions are grouped thematically: online dilemma gaming, cyber threats, societal resilience and strategic communication.
The four online sessions will discuss issues that have arisen from the gaps and needs analysis conducted during the current working cycle of the project: critical infrastructure disruption, emerging technologies and political cleavages. The fourth one will be an open brainstorm session in the format of an online game with a focus on hybrid threats.
At the end of the day, all participants (live and online) will return to the plenary session to receive presentations on the outcomes of all break-out sessions and follow a concluding keynote speech (TBD).
Please find below the full agenda
The workshop is open to project partners and external participants upon registration.