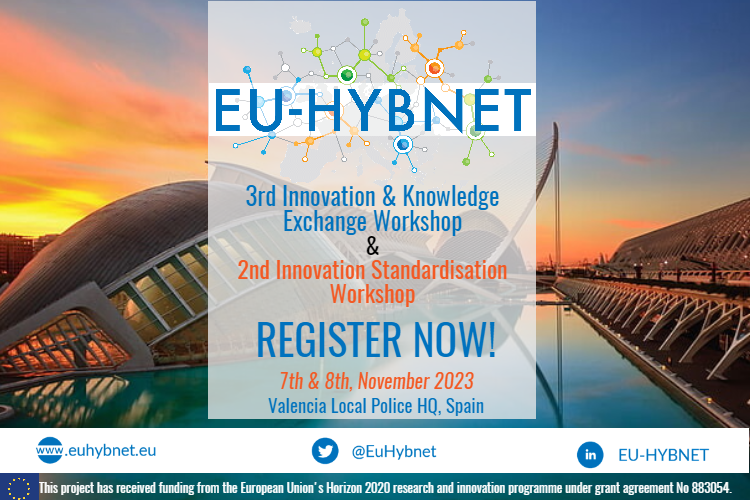 EU-HYBNET 3rd Innovation and Knowledge Exchange Workshop #IKEW2023
We are pleased to invite you to the EU-HYBNET consortium's 3rd Innovation Knowledge Exchange Workshop (#IKEW), which will take place on 7 November 2023 at the Headquarters of the Valencia Local Police in Valencia, Spain! Registration is now open!
Please save the date in your calendars and share the event among your networks.
This third and final edition of EU-HYBNET's IKEW will present innovations identified during the project's ongoing third cycle which correspond to the gaps and needs pan-European security practitioners face when countering hybrid threats. One innovation per project core theme will be presented:
Future trends of Hybrid Threats
Cyber and future technologies
Resilient civilians, local level, and administration
Information and strategic communications
The workshop will serve as a forum where practitioners can engage with innovation providers. It will ensure the exchange of knowledge and information about innovations to increase the likelihood of future uptake. A first draft of the workshop agenda is available here.
The IKEW is open to project partners and external participants upon registration. More information regarding the event will be shared soon.