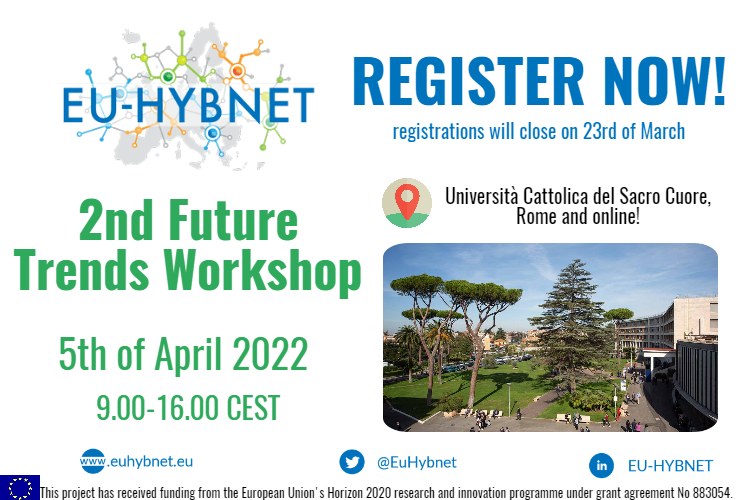 EU-HYBNET 2nd Future Trends Workshop #FTW – Democracies on the edge?
The EU-HYBNET consortium will hold its second EU-HYBNET Future Trends Workshop, #FTW, on 5 of April 2022 in Rome and in hybrid format/telco. This workshop will address expected future manifestations of hybrid threats, and their evolving nature coupled with the different points of view that may be expressed as to how current innovations and solutions may or may not apply in tomorrow's world.
The purpose of the workshop is to support the stakeholders' everyday work by providing a future outlook for strategic planning and consider consequences of today's policy choices in long-term.
The second EU-HYBNET Future Trends Workshop's topic is "Democracies on the edge? Populism, Social networks, and international groups" including following topics:
* Trend 1 – Changing populism: what are the forms of populism? How will populism evolve and will it be a determining political movement in the future?
* Trend 2 – Instrumentalization of social networks: what are current social networks? How will the galaxy of social networks look like in the future? Will information virality models give and deepen social networks' future harm potential at systemic levels?
* Trend 3 – Constitution of international groups: what narratives and topics unite and create movements transnationally? How this can be used as a tool by outside actors? Are these likely to grow into political force or are they more a disruption?