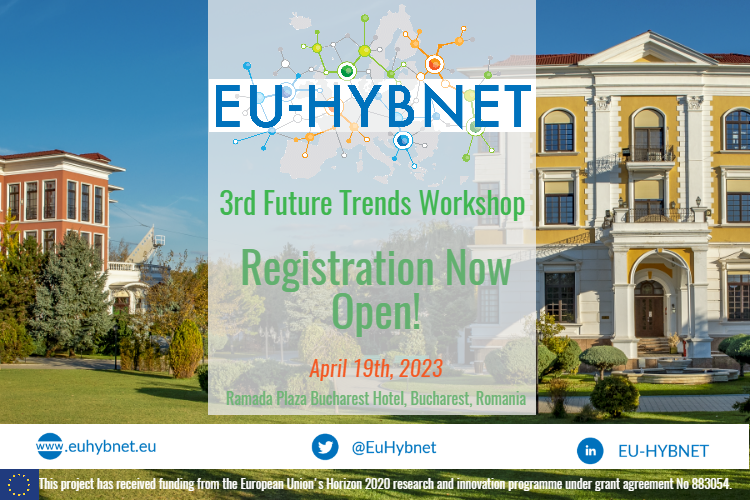 EU-HYBNET 3rd Future Trends Workshop #FTW
We are pleased to announce that the EU-HYBNET consortium will hold its third Future Trends Workshop, #FTW2023, on 19 April 2023 in Bucharest, Romania.
The third EU-HYBNET Future Trends Workshop's topic is "Hybrid Threats in the EU Neighbourhood – Implications for the future of EU security". Please register and share the event with your relevant networks!
Three years into the EU-HYBNET project, this workshop will build on the project findings and provide a platform of interaction for various stakeholders to discuss hybrid threats in the EU's neighbourhood, implications for the future of EU security and innovations to counter them.
Since the landscape of hybrid threats is continuously evolving, foresight and creative thinking is central for understanding, detecting and responding to emerging threats. It focuses on a more anticipatory and prospective outlook, highlighting the weak signals and outliers of disruptive and paradigmatic change to the European security environment.
Recent events in the EU neighbourhood have brought into attention a complex dynamic of adversarial tools and strategies involving weaponization of information, technology, cyberspace, critical infrastructure, energy, in an intricate pattern aimed to weaken cohesion and generate polarisation across the EU and its neighbourhood.
The purpose of the workshop is to support stakeholders' everyday work by providing a future outlook for strategic planning and consider the consequences of today's policy choices in long-term.
Please find the full draft agenda here. Further information will be provided shortly.
The workshop is open to project partners and external participants upon registration.