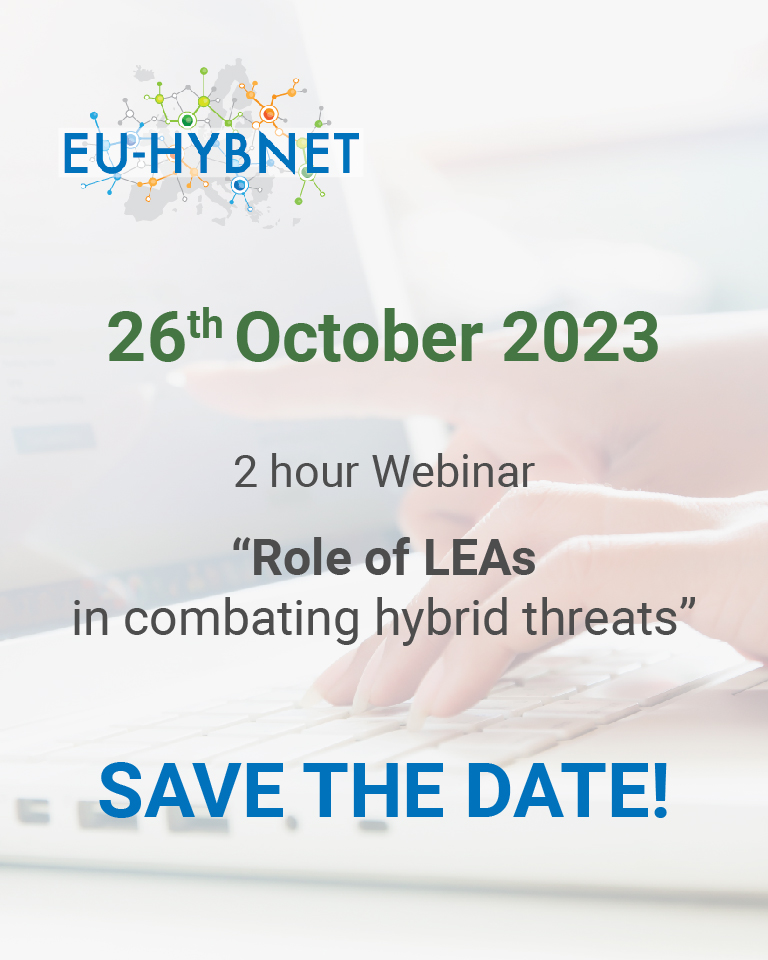 EU-HYBNET Webinar on the "Role of LEAs in cobating hybrid threats" – in partnership with  CYBERSPACE – LEA Project Cluster
Registration is now open!
EU-HYBNET invites you to the webinar "Role of LEAs in combating hybrid threats", which will take place on the 26th October 2023, from 12:00 to 14:00 CET (online). The webinar is organised in partnership with  CYBERSPACE – LEA Project Cluster.
The term "hybrid threat" refers to an action conducted by state or non-state actors, whose goal is to undermine or harm a target by combining overt and covert military and non-military means (https://www.hybridcoe.fi/hybrid-threats/).
With the rise of hybrid threats across various spheres, it's crucial to understand law enforcement's role and explore the differences between different actors, for example, intelligence services and the military.
The webinar is dedicated to police officers and law enforcement representatives dealing with hybrid threats. The meeting will focus on such topics as disinformation, critical infrastructure, cybersecurity and foreign direct investment, among others.
We want to connect with officers actively working in this domain and interested in learning and sharing their knowledge and experiences with other European experts. The event is directed at law enforcement practitioners but is open to suitable stakeholders from public institutions, industry and research.
The agenda and more details about this 2-hour webinar will follow, but for now – please click here to register for the event.
If you represent a LEA agency, and would like to deliver a 10-15 minute presentation to share your experiences, please contact: malgorzata.wolbach@ppbw.pl.