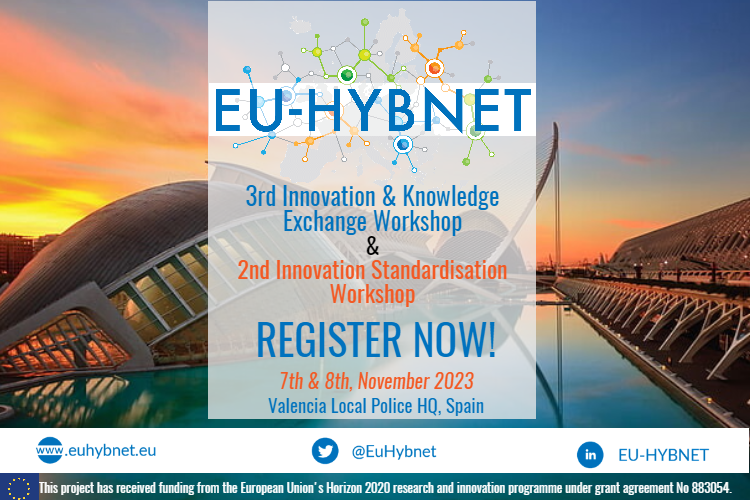 EU-HYBNET 2nd Innovation Standardisation Workshop #ISW2023
We are pleased to announce that EU-HYBNET's 2nd "Innovation Standardisation Workshop" will take place on 8th November 2023 in Valencia, Spain. Registration is now open!
EU-HYBNET's Innovation Standardisation Workshop (ISW) will bring together EU-HYBNET consortium partners and hybrid threats stakeholders to map the current status of standardisation efforts in the field and identify needs and possibilities for the future.
This workshop will explore the issue fo standardisation in two parallel tracks of work:
Foreign Information Manipulation and Interference (FIMI)
Protection of critical infrastructure
A first version of the event draft agenda is now available here. More information about the workshop will be shared soon.
If you require any further information, please contact event organiser – EU-HYBNET partner – Polish Platform for Homeland Security (Malgorzata Wolbach malgorzata.wolbach@ppbw.pl)
THE CALL FOR SPEAKERS HAS BEEN CLOSED
We are looking for speakers who would like to prepare and present case studies dedicated to FIMI and protection of critical infrastructure in our workshop.
Each case study should be a thorough analysis of a specific case: initial situation and issue, the actions taken, the tools used, the results of the work done, advice & ideas on what could be done differently in the future. Based on the selected case studies, the organisers are planning to hold a discussion, for example: how national and European institutions reacted, how such reactions should be organised (counter) and in what way.
If you would like to deliver a speech connected with your expertise at the 2nd ISW, please complete this form by the 20th of September 2023. If your application is accepted, the notification of acceptance will be emailed by the 1st of October 2023.